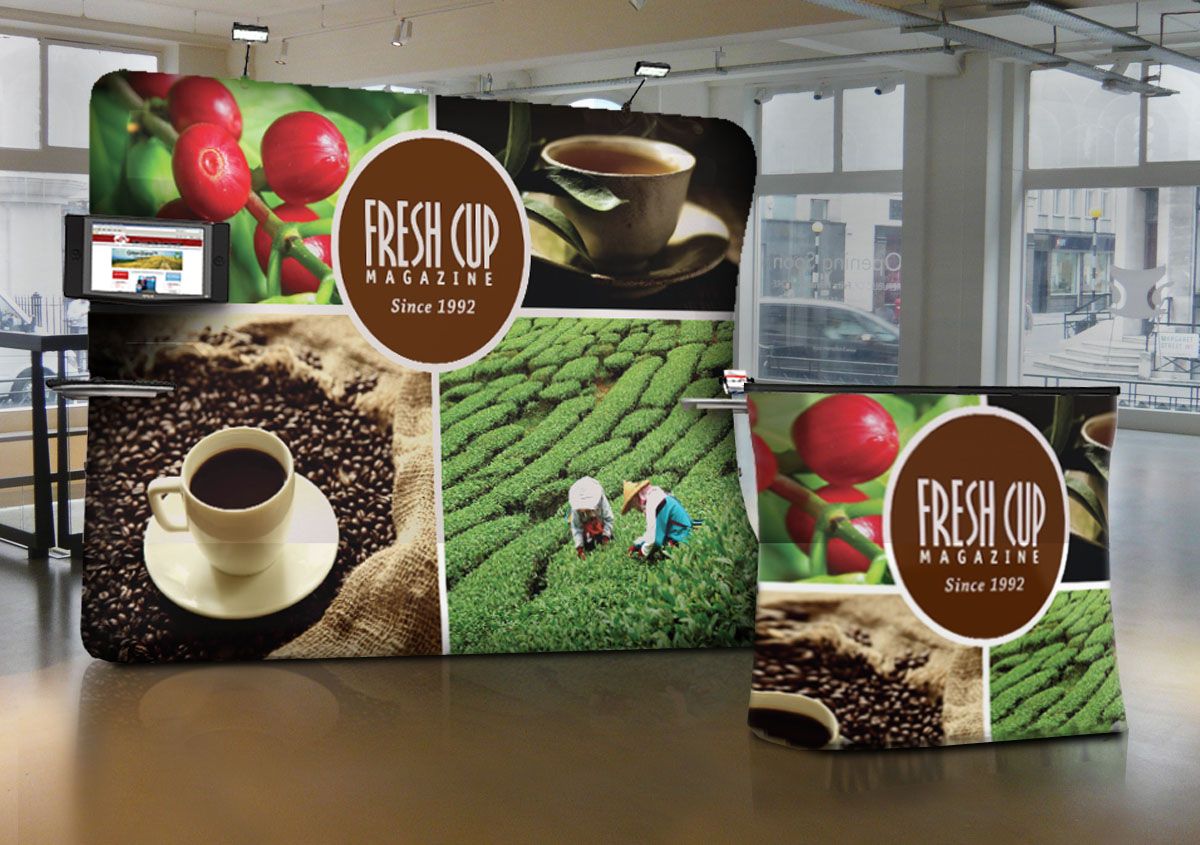 Trade Show Design Inspiration: Fabric Displays
---
As the busy spring trade show season winds down, now is a good time to reflect on your experiences and re-evaluate your trade show marketing strategies before things get busy again this fall. No doubt, some things worked better than others, and likely, you saw varied approaches to exhibit displays, trade show signage, and other marketing tactics. If you are ready to freshen up your trade show look with signage that is versatile, cost-effective, and dynamic, consider fabric displays from S2 Imaging.
Benefits of Fabric Displays
Fabric graphic displays are quickly becoming the go-to choice for trade show exhibit design. These types of displays offer a number of benefits:
Lightweight - Since these displays are mostly comprised of stretched fabric, they are extremely light in comparison to their traditional counterparts.
Eco-Friendly - As these types of displays become increasingly popular, the list of fabric options has grown to include many made from recycled materials.
Simple Storage and Shipping - Fabric displays can be folded or rolled up, making them a breeze to travel with or ship. This type of portability also allows these displays to be stored easily.
Picture Perfect Presentation -If your display will be photographed or filmed, fabric is ideal because it will not create a glare. Since exhibitors don't have control over the lighting at the trade show's event space, this will also help to prevent glare created by harsh overhead lighting.
Easy to Maintain - Fabric displays are able to be washed or steamed, which can keep them looking brand new year after year.
Flexibility - Fabric displays can be draped, hung, or wrapped around almost any type of structure. These types of displays provide countless options for customization, ensuring your display stands out from the bunch.
Embrace Your Creativity – With fabric displays, you are not limited to flat, static booth shapes. A pillowcase fabric display can be made in almost any shape that you can imagine, leaving you with a trade show booth display that stands out from the crowd.
Opportunity for Interaction – Fabric displays, especially those with interesting shapes or curves can draw attendees into your space. A curved display also provides you with more space for booth accessories like literature racks or iPad stands, providing additional interactive elements for show attendees.
Tension Fabric vs. Pillowcase Fabric Displays
S2 Imaging offers a huge variety of fabric trade show displays, including pillowcase fabric displays and tension fabric displays. Both types of fabric displays are stretched taut to create a canvas-like display. The difference is that tension fabric displays attach to a frame with Velcro or hooks, leaving part of the frame exposed. Pillowcase fabric displays, on the other hand, are just like they sound: a giant pillowcase. These types of displays completely enclose a structure with the help of a hidden zipper.
We love fabric displays because their flexible structure offers so many unique design opportunities. We created a tension fabric display for Tosca Ltd, that provides a clean and professional look, while allowing them to display their website information on the sides of their exhibit.
With pillowcase fabric displays, you can go beyond the standard one-dimensional setup. Pillowcase fabric displays can be curved top to bottom or left to right, with either an inward or an outward curve. We created a pillowcase fabric display for Catalog Spree that has a unique thin shape and inward curve, but can still support a mounted monitor. Pillowcase fabric displays can also be made into cylinders, towers, or nearly any other shape you can imagine.
Creativity and adaptability are the cornerstones of trade show marketing. With 25 years in the industry, S2 Imaging has seen it and done it all. We are constantly looking for new types of displays that are more efficient and eye-catching for our clients. Let us partner with you to come up with unique exhibit displays that are versatile, affordable, and creative.. Contact us today for a free quote and let our creative experts design the perfect trade show exhibit for you