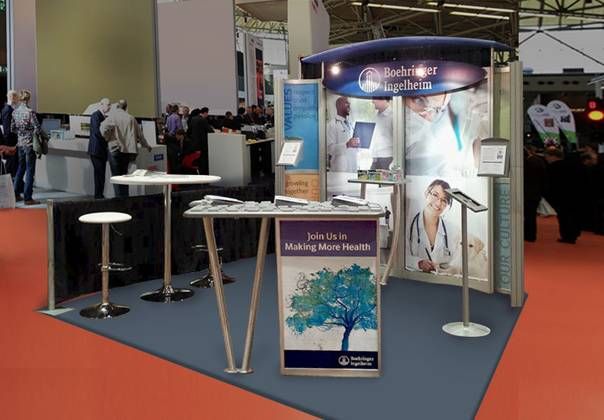 Benefits Of Led Lighting For Trade Show Displays
---
It's a packed house and your trade show display is one of hundreds. How do you stand out in the crowd? While structure and content go a long way in grabbing the attention of passersby, one of the most integral and commonly over-looked elements of exhibit design is lighting.

While there are several choices when it comes to choosing lighting, contemporary display designers choose to use LED bulbs for a number of reasons:
1. They're the sustainable choice.
LEDs consume far less energy than incandescent bulbs, and are currently one of the world's most energy-efficient lighting options. They last longer, cost less, and break less easily. What's more, new technology is constantly being developed to improve light quality, offering a better return on your eco-friendly investment, one bulb at a time.
2. They work wonders for every aspect of your trade show exhibit.
Lighting has the power to attract attention, guide the eye of onlookers, and set the mood. From whiteness and brightness to color temperature and direction, the potential of lighting to take your exhibit from forgettable to noteworthy is great.
The science: Incandescent bulbs cast a field of light, requiring reflectors and diffusors to control it. In contrast, LEDs emit light in a specific direction, making them the more practical choice for high-functioning task lighting in pop-up displays or larger exhibit displays.
The design: Exhibit lighting can be as dramatic or diffused as you'd like—it all depends on your vision, product, or message. As contemporary displays trend towards light and bright, LEDs offer flawless color spectrum control and directional capabilities. Turn up the brightness to draw focus to a featured product, use backlighting to highlight graphics, or let overhead LEDs set an inviting scene.
3. Contrary to popular belief, LEDs are affordable.
While the popularity of LED lighting has increased over the past ten years, their cost has decreased. This is due in part to evolving technology, but also to sustainable initiatives encouraging the replacement of incandescent and fluorescent lightbulbs with LEDs.
LEDs are a win-win for everyone: you, your audience, your company, and the planet. S2 Imaging is proud to offer a range of exhibit displays using LEDs.
Have an upcoming tradeshow in mind? We'd love to help you create the perfect display. Send us a note and our experts will help guide your decisions. Check back to our blog for more trade show and exhibit topics.